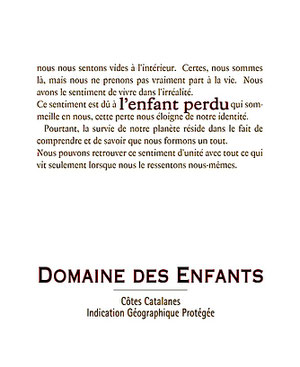 Übersetung des Etikettentexts: 

"fühlen wir uns innerlich leer. Wir sind zwar da, aber wir nehmen nicht wirklich am Leben teil, es vermittelt uns ein Gefühl der Irrealität. Grund ist das verlorene Kind in uns, welches dazu führt, dass wir keine Verbindung zu uns selbst haben. Das Überleben unseres Planeten hängt jedoch davon ab, zu begreifen und zu erfahren, dass wir alle eins sind. Dieses Gefühl der Einheit mit allem, was lebt, können wir erst dann spüren, wenn wir uns selbst als eine Einheit erleben."

"L'enfant perdu" ist unser Basiswein. Die Zusammensetzung ist von Jahr zu Jahr verschieden, je nachdem welche Parzellen für die Spezial-
cuvées ausgewählt werden, er enthält jedoch immer unsere vier wichtigsten Traubensorten, Grenache, Carignan, Lladoner Pelut und Syrah. Er besteht zu rund zwei Drittel aus Trauben von unseren jüngeren Anlagen, wobei jüngere Anlagen bei uns ein Alter zwischen 10 und 50 Jahren bedeutet. Der Wein wird 12 Monate je zur Hälfte in französischen Eichenfässern (300-600 Liter) und im Betontank ausgebaut. 
---
"Tasted from barrel, the 2012 L'enfant perdu is a sensational-looking 2012 that has full-bodied richness and depth to go with lots of darker fruits, cassis, liquorice and spice.  Made from Grenache, Carignan, Syrah and Lladoner Pelut, it has a voluptuous, hedonistic style and should drink well for upward of a decade."
The Wine Advocate 2015
"Even more decadent and ripe than the 2012, the 2011 L'infant Perdu has lots of smoked plums, scorched earth, liquorice and earthiness to go with a full-bodied, low-acid, thick and chewy feel on the palate."
The Wine Advocate 2015
"The 2010 Cotes Catalanes L'enfant perdu, which is labeled s their secondary wine, it's a fabulous effort that's comprised of equal parts Grenache, Syrah, Carignan, and Lladoner Pelut that's aged half in tank and half in 25% new barrels.  Structured, full and rich, with a voluptuous texture and a massive mid-palate, it offers layers of blackcurrants, plum, smoked earth and liquorice on both the nose and palate.  It's a rocking value to drink over the coming 7-8 years, if not longer."
- The Wine Advocate 2014
"Tar, wormwood and licorice inflect ripe, almost implosively-concentrated blackberry and cassis in the nose as well as on a polished and infectiously juicy palate.  Impingement of crunchy berry seeds and crushed stone add stimulation, while marine salinity and alkalinity, smoky peat and Latakia tobacco contribute to haunting as well as mouthwatering complexity and depth that vibrantly linger."
The Wine Advocate, February 2014
"Cherry and blackberry jam and creme de cassis are accented with almond extract, cherry pit, cocoa powder, and smoky black tea in a performance of great richness that manages to preserve primary juiciness and a modicum of vivacity in a finish set-off by an underlying sense of wet stone..."  Wine Advocate #195, June 2011
"Abundant, concentrated ripe dark cherry, purple plum, and black raspberry informs a palate of silken polish and vibrant persistence..." Wine Advocate #195, June 2011