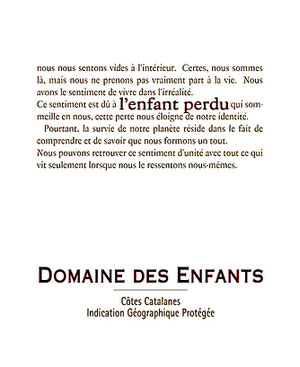 Texte figurant sur l'étiquette: 

"nous nous sentons vides à l'intérieur. Certes, nous sommes là, mais nous ne prenons pas vraiment part à la vie. Nous avons le sentiment de vivre dans l'irréalité. Ce sentiment est dû à "l'enfant perdu" qui sommeille en nous, cette perte nous éloigne de notre identité. Pourtant, la survie de notre planète réside dans le fait de comprendre et de savoir que nous formons un tout. Nous pouvons retrouver ce sentiment d'unité avec tout ce qui vit seulement lorsque nous le ressentons nous-mêmes."

"L'enfant perdu" est notre deuxième vin. D'année en année, la composition est différente. Cela dépend des parcelles sélectionnées pour l'élaboration des premiers vins. Pourtant "l'enfant perdu" est toujours composé de nos quatre cépages à savoir le Grenache, le Carignan, le Lladoner Pelut et la Syrah. D'une manière générale, le deuxième vin est constitué de deux tiers de raisin de nos plus jeunes vignes, bien que nos plus "jeunes vignes" aient entre 10 et 50 ans. La moitié des vins sont élevés en tonneaux français (300-600 litres) l'autre moitié en cuves.
---
"Tasted from barrel, the 2012 L'enfant perdu is a sensational-looking 2012 that has full-bodied richness and depth to go with lots of darker fruits, cassis, liquorice and spice.  Made from Grenache, Carignan, Syrah and Lladoner Pelut, it has a voluptuous, hedonistic style and should drink well for upward of a decade."
The Wine Advocate 2015
"Even more decadent and ripe than the 2012, the 2011 L'infant Perdu has lots of smoked plums, scorched earth, liquorice and earthiness to go with a full-bodied, low-acid, thick and chewy feel on the palate."
The Wine Advocate 2015
"The 2010 Cotes Catalanes L'enfant perdu, which is labeled s their secondary wine, it's a fabulous effort that's comprised of equal parts Grenache, Syrah, Carignan, and Lladoner Pelut that's aged half in tank and half in 25% new barrels.  Structured, full and rich, with a voluptuous texture and a massive mid-palate, it offers layers of blackcurrants, plum, smoked earth and liquorice on both the nose and palate.  It's a rocking value to drink over the coming 7-8 years, if not longer."
- The Wine Advocate 2014
"Tar, wormwood and licorice inflect ripe, almost implosively-concentrated blackberry and cassis in the nose as well as on a polished and infectiously juicy palate.  Impingement of crunchy berry seeds and crushed stone add stimulation, while marine salinity and alkalinity, smoky peat and Latakia tobacco contribute to haunting as well as mouthwatering complexity and depth that vibrantly linger."
The Wine Advocate, February 2014
"Cherry and blackberry jam and creme de cassis are accented with almond extract, cherry pit, cocoa powder, and smoky black tea in a performance of great richness that manages to preserve primary juiciness and a modicum of vivacity in a finish set-off by an underlying sense of wet stone..."  Wine Advocate #195, June 2011
"Abundant, concentrated ripe dark cherry, purple plum, and black raspberry informs a palate of silken polish and vibrant persistence..." Wine Advocate #195, June 2011